Talking Early Years: Celebrating 120 Years at LEYF
The Year That is 2023 – This year, we are proud to celebrate 120 years of LEYF. It's been fascinating to reflect back on what has changed over that time (both good and bad) and what essentially remains the same. I consider children to be the litmus test of society and my reflections support this. 
Back in 1903 a group of philanthropic men and women came together to try to solve the problem of child poverty in Westminster. Focusing on mothers, they wanted to make things better for them so they could improve their children's health. Who would have thought that we would be having a similar conversation 120 years on? Led by Dr F.J. Allan and Richard Saunderson, they formed the City of Westminster Health Society. Among its first pioneers was Margaret Horn, a student of the great social entrepreneur Octavia Hill. This was a time when there was no NHS or welfare state, and you relied on charity handouts and the support of your community when times were tough.  
Yet even today, we are still concerned about child poverty and ill-health. Whilst children are no longer dying from hunger, they are bearing the dire consequences from highly processed junk food & drink (high in fat, salt and sugar) which is one of the major culprits of the global obesity epidemic and, of course, tooth decay. 
Back then, children had no shoes and yet today we are partnering with the charity Sal's Shoes to support those families struggling to buy 'new feet' for their children.  
What's more, with one in four households in London facing food insecurity, food banks are also becoming a regular feature in several of our nurseries – much to my dismay given we are the 6th richest nation in the world. We are now working with City Harvest (London's leading food rescue charity) which offers us surplus food for our Food Banks and Community Pantries which are a lifeline for many parents. 
1903 was the start of the decade when Early Years Education and Care (EYEC) came to the fore. Pioneers such as Maria Montessori began her Casa dei Bambini in 1906 for low-income families in Rome. Others who have influenced our pedagogies such as Margaret McMillan introduced the outdoor schools in 1914 because tuberculosis was rife and ventilation was important. The first Steiner school was also founded in Germany in 1919. We always say EYEC is highly political in that it centres right at the heart of what's happening in society.  Nowadays, we are trying to protect our children from environmental decline and technology takeover and keep them alive and protected.  

In 1907, our Westminster predecessors were distributing information leaflets about healthy child rearing practice in the dominant languages of the day, English, Welsh, Italian, French, Flemish and Yiddish for local Westminster residents. In 1911, we collaborated with the National Training School of Cookery and students visited homes to provide families with practical cooking instruction. We are doing something similar today with our LEYF Early Years Chef Academy. This was a time when the Society provided community access to medical and dental services, 'Mothercraft' and antenatal classes as well as cooking and needlework workshops. These continued despite the First World War.  
Our embryonic social enterprise journey began when enough money was raised to open our building on Marsham Street, which remains our Head Office to this day. I remember meeting Biddy Billington who was the Matron of the nursery in 1947. Like me, she was a Cork woman which is how I connected with her. She told me that she had outraged the trustees once by raising £60 from Bovril. They did not like the idea of any kind of commercial connection. I don't know what they'd make of today when we talk of social investment, loans, partnerships, and expansion! 
The Society then survived World War 2, was the first gas mask fitting service in London and an air wardens rest point.  It was a busy nursery supporting mothers working for the war effort.  If you haven't seen it watch Rosie the Riveter, a very evocative image of the life of Londoners during the war. Ordinary people doing extraordinary things! 
Nursery still cost money and was 6 shillings a week, at a time when the average weekly wage was £28 shillings. So, not cheap!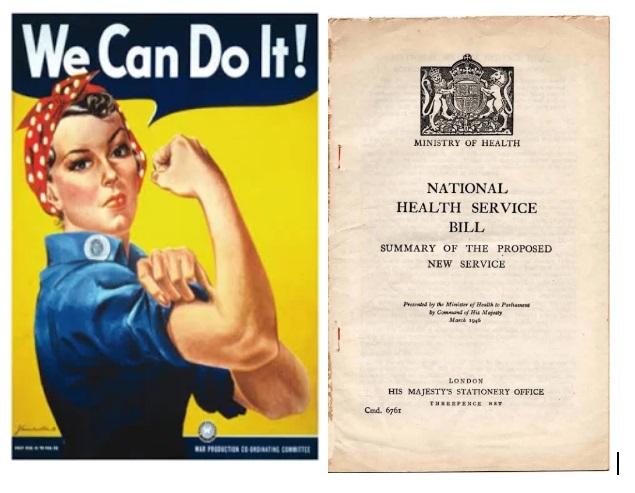 On the 5th of July 1948, the NHS was formed and the Society started a partnership with the London County Council to run two nurseries. Gradually, as women moved back into the home during the 1950s, 60s and 70s, the Society focused on running Mother and Toddler Clubs. In 1977, the Lord Mayor of Westminster cut the ribbon to our first play bus called "Nellie" and soon after that we were at Buckingham Place to give the Queen Mother an 80th birthday card.  She had become our patron in 1932 when was still the Duchess of York.  
Speeding onwards to 1997, the year the first National 10 Year Childcare Strategy was launched. Professor Robert Winston opened the first Sensory Room at Lisson Green.   
Six years later we hosted our centenary celebration with a grand tea party for 500 children. The event kicked off with a 'Rumble in the Jungle' concert featuring 300 children and members of the Royal Philharmonic Orchestra at Porchester Gardens.  Everyone had a part to play. 
The arrival of a National Childcare Strategy was important for us to rethink our role as Early Years providers and looking outwards became very important. Our response was to join EECERA and, in 2004, I, along with nine nursery managers attended our first research conference in Malta. It was the beginning of a long relationship with EECERA and we learned a great deal about pedagogy and praxis and certainly embedded a culture of learning and thinking about our pedagogical leadership.  
When we launched the inaugural Margaret Horn Debate at City Inn, John Islip Street it was only natural that we had with Professors Chris Pascal and Tony Bertram as the speakers and the event was chaired by Ruth Thomson (now retired but then the Deputy Editor of Nursery World).  They introduced us to the importance of adults having some grasp of the children's languages when speaking with parents.  It's something that resonated in an organisation where at one stage there were 102 spoken languages.  With over 50% of our staff from other parts of the world, this message has become deeply anchored in our culture.   
We began our journey to becoming a full social enterprise in 2006 and, by 2009, we had rebranded as the London Early Years Foundation (LEYF). A social enterprise is not complete without a social pedagogy so that was the year we really started to shape our seven strands.  
 In 2010, we won the first contract to run a nursery in the Houses of Parliament.  That process deserves its own blog. Suffice it to say, it was something of a culture change. It was also the year we kicked off the Men in Childcare campaign and while there has been progress and certainly, we have increased men working at LEYF, since Covid the overall numbers across the UK have slipped back to a paltry 2%. 
In 2012, we enjoyed the London Olympics doing our own version of the torch which visited each LEYF nursery.  We were also still visiting Paddington Farm for our annual holiday. That was a time when we took a group of children on a four-day holiday in our minibus and witness them thrive in the country. LINK to relevant blog 
In 2013, we started the Ofsted Big Conversation (OBC) which is also ten years old this year and is a much-needed way of ensuring regular conversations with our regulator. This is now shared among the sector as people take it on in different regions. We need to continue with it and not get complacent. Only a grown up and mutually respectful relationship will guarantee a fair and mutually appreciated service. 
When the Queen Mother died in March 2002, there was a big Trustee Debate and whether to get another Royal patron. They could not agree, and we missed the opportunity. 20 years later we were visited by the Duchess of Cambridge, now the Princess of Wales, to serve the children of Stockwell Nursery their breakfast and celebrate our EY Chef Academy This together with our partnership with Bikeworks, is our systemic response to child obesity to help keep children fit and to eat healthily.
This was also the year we Doubled Down to provide 15 extra hours of funded childcare to our most vulnerable children. We hope that we won't have to do that for no more than the first five years for which we received funding and that the Government will recognise that it is essential and make it part of the national offer. 
We continue to pioneer our Sustainability Strategy with the Level 4 qualification in Sustainability for Early Years is another example.  We need to leave a legacy or otherwise our work counts for nothing.  
If we were to have dinner with Margaret Horn, Margaret MacMillan and Maria Montessori then we would want to be able to tell them how we have taken their work and strengthened and deepened it. They may be depressed to find that we still do not have EYEC as part of the national educational infrastructure and the public is still unsure about what we do and why it matters.  
Let's hope that in another 120 years when the CEO of LEYF is reflecting on another 120 years, they  can tick all the boxes and say LEYF is the dominant childcare model. 
Listen in to my interview reflecting on the LEYF history with two of our longest serving LEYF staff – Maureen and Gary, and one of our apprentices, Danayt.
Look out for our new Podcast series of "Ordinary People Doing Extraordinary Things" and we are kicking off with Food Poverty.