LEYF believes that the health and safety of our children and staff is of paramount importance.
We aim to ensure our organisation is a safe place for children, staff and visitors.
LEYF fully recognises the duties placed upon it under the Health and Safety at Work etc. Act 1974 and will strive to achieve the highest standards of health, safety and welfare to everyone in its care.
The health and safety of children in our care is always our number one priority.
While we believe in encouraging children to be independent and explore their environment, our first thought is always for their safety.
The health and safety of children in our care is always our number one priority.
First aid
We understand that occasional knocks and bumps can happen with young children, but we are always fully prepared to deal with any accidents which may occur while your child is with us.
Our nursery team always includes staff with a full paediatric first aid certificate and we provide regular first aid training to ensure staff are kept up to date.
Providing a suitable environment
The toys and equipment in all our nurseries are selected for the age and development stage of the children who will use them.
We encourage children to think about their own safety and the safety of others, for example, by tidying up after themselves and taking care when using climbing equipment.
Risk assessments
Risk assessments are carried out by our staff in all indoor and outdoor areas every morning, to ensure optimum safety of both children and staff.
We have high standards of hygiene and have a regular cleaning schedule for all our toys and equipment. Parents and carers can be sure that toys and equipment are kept in prime condition and are well-maintained for our children.
Safe, fit and healthy
Being safe, fit and healthy is part of LEYF's Pedagogy and a core part of the teaching and learning experience. The physical and emotional well-being of children is paramount and at the core of everything we do.
The well-being of our children and staff matters a lot at LEYF. We have a strong inclusive ethos for staff and children. This requires nurseries to be calm where children can test their physical abilities and use their whole bodies to learn.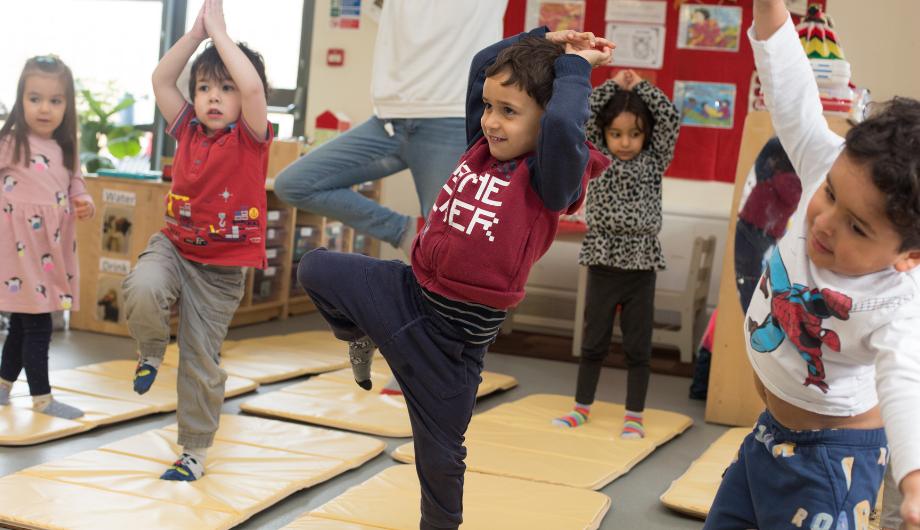 We teach children how to stretch and enjoy simple yoga moves, as it both relaxes them but also helps them develop their spatial awareness and body control. Children are enabled to take risks with adult support such as climbing trees in the park, exploring for mini beasts and making fun experiments.
Risky play in early childhood can help develop a child's self-confidence, resilience and to juggle multiple tasks successfully. Outside, children are nurtured through nature and gardening, and understanding how we interact with the environment. It is part of our approach to sustainability, which we call Green LEYF.
Their food is provided by chefs who have been trained at the LEYF Early Years Chef Academy, who also teach the children how to make simple dishes for tea and contribute to them learning to embrace a healthy and active lifestyle.
We have an allergies policy and work closely with parents on assessing and minimising risks for children. Staff are trained to deal with children's specific food needs and we display an allergy chart in the kitchen and the area where food is served.
Secure entry
All our nurseries have a secure entry system in place. Access is only given to known parents, carers or nursery workers. Visitors are always escorted by a member of staff.
Trips and outings 
We play an active role in our local communities and enjoy taking children on regular outings to local places of interest.
To ensure the health and safety of children during our trips and visits, we always carry out risk assessments in advance.
Children are also given high-visibility jackets to wear and will always be holding hands in pairs or small groups.