A healthy population is the foundation of a strong and thriving economy, and that begins with our children. Poor diet is a leading cause of long-term illness and death in this country and a key reason for the more than an 18-year gap in healthy life expectancy between our most and least deprived communities. Set that within a rising epidemic of obesity with more than one in four children starting school already overweight or obese and the number growing with no sign of decline, and we have a health ticking timebomb.  
What Does That Mean?  
Children in nurseries are not guaranteed a hot midday meal because our current statutory guidance for local authorities on the provision of childcare and early education states that government funding is "not intended to cover the costs of meals, other consumables, additional hours or additional services". That means there are no school meals for children in nurseries (not even those from poor and disadvantaged backgrounds) while all children in Reception, Year 1 and Year 2 attending state-funded schools in England are eligible for a free school meal (FSM). It's not unsurprising why so many of us are tracking the Westminster City Council pilot to fund FSM in nurseries and other settings. 
The food situation in the Early Years sector is dire; 94% of providers say that the food they serve to children attending their setting has been impacted by rising food costs – with more than a third (35%) stating this is having a significant impact. More than six in ten (62%) of respondents say that despite their very best efforts, they have been forced to use cheaper ingredients when providing meals. Even more concerningly, these challenges come at a time when 49% of Early Years providers are reporting growing signs of food insecurity. In other words, families with unreliable access to sufficient affordable and nutritious food.  That is pretty tragic, especially when Early Years providers know that hungry children simply can't learn which is why they are desperate to continue serving food to them.  
What Did We Do? 
We decided to address one aspect of this mounting problem by upskilling chefs. We designed and developed the Early Years Chef Academy and created a Cache Level 3 Award for chefs.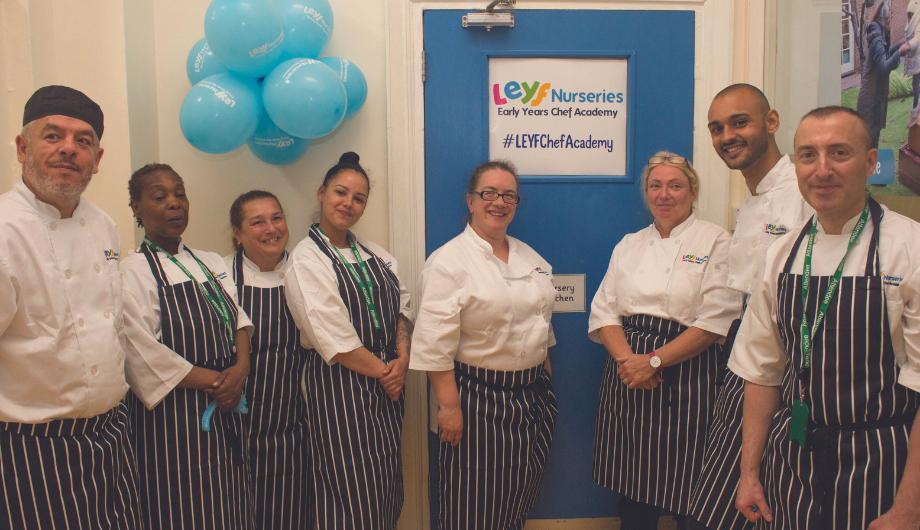 Chefs are taught about nutritious menus, child food portions and food waste. And it's working! Nurseries and chefs have learned a great deal about making cost effective nutritious meals. They have developed menus without added sugar or salt. They are more confident demonstrating this to staff and parents. They are designing sustainable menus and spending time teaching children about cooking.  They are literally reshaping food for children. We have just reported on this and the findings are fascinating! Have a read here:  
https://www.leyf.org.uk/training/courses/early-years-chef-academy/chef-academy-impact-report/