LEYF Staff Conference: Building a better future for more of London's Children
Every year we hold our annual LEYF conference when we celebrate our achievements over the past 12 months and present our plans for the year to come. The conference days always balance up-beat speakers with active involvement, and over the years we have formed a strong relationship with our Scottish colleagues – especially Alice Sharp of Experiential Play. This year is no exception.
Good relationships within and outside the organisation remains a constant of LEYF, and the conference definitely reflects this – starting with the venue. For the second year, we have chosen to work with Pimlico Academy, which is a perfect venue and reflects our positive relationship with the local secondary school.
Our conference this year aims to tell the story of why we want to help build a better future for London's children, and how our model helps us achieve such an ambition. Key aspects of the LEYF model are central to the day.
To help us explore this, Alice Sharp has invited colleagues from the Scottish Islands to demonstrate their multi-generational approach, along with their exciting take on home learning. Anne Patterson, Quality Improvement Officer for Early Years and Primary, Kathleen Johnson, Head Teacher Early Years and Primary Islay and Jura, and Stephen Glenn Lee, Head Teacher of Early Years and Primary Isle of Luing and Easdale, will help inner London nurseries become the centre of their own urban villages as these have done on their small islands.
To give a small geography lesson, the islands of Islay and Jura are the most southerly of the Inner Hebrides. Both islands, though distinctly different in character, have stunning scenery, abundant wildlife, varied terrain and are famed for malt whiskies, wintering geese, miles of sandy beaches and friendly locals.
The Isle of Luing is 16 miles south of Oban, and 3 hours from Glasgow. A beautiful island with a strong and caring community, Luing measures some six miles long by one-and-a-half wide and lies north-south across the mouth of Loch Melfort on the Argyll coast. It is generally low lying, with a maximum height of about 300 feet, and has a population of around 200.
Easdale is a small island in Argyll on the west coast of Scotland, 16 miles south of Oban. Easdale has no cars, roads or street lamps. The island has a population of around sixty people and is the smallest permanently inhabited island of the Inner Hebrides. The World Stone Skimming Championship has taken place annually in September on Easdale since 1997.
As part of the conference we have invited Paul Brannigan of the Ken Loach film The Angel's Share. Brannigan plays new dad Robbie who, narrowly avoiding jail, vows to turn over a new leaf when a visit to a whisky distillery inspires him and his mates to seek a way out of their hopeless lives. It was a film recommended to me by Detective Inspector John Carnochan who heads up the Scottish Violence Reduction Unit. He spoke at our Staff Conference last year and the staff were blown away by his stories. They were very touched by his story of David which, like in the film, shows what happens when the system fails a young boy from a very troubled background, and how the intergenerational cycle of poverty and deprivation is reaffirmed by the system.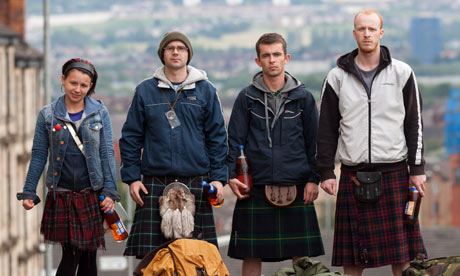 Brannigan will be speaking about the importance of the home learning environment from his own personal experience, and how as a new Dad he wants to make sure he gives his son the best start in life. I suspect that, given his next film is with Scarlett Johansson, he is on target to succeed.
Paul is unusual however, and while few get to his giddy heights, he is admirable in wanting to speak up for parents who like him have had a challenging start and want to do their best for their children. Our staff conference this year will support the research which underpins the LEYF philosophy, namely that we only make an impact if we do things that create and embed cultural and social capital by changing the way parent's help children learn at home.